Certificate is undoubtedly the MOST IMPORTANT tool for any learning platform. It denotes students' academic excellence in a certain course. But unfortunately, all the LMS providers in the market offer certification only with the PRO version of their plugins. So you need to purchase the whole product to be able to offer certification to your students. This issue is particularly critical for education enthusiasts who are just setting up their eLearning platforms and hence, are short on cash.
At Dozent LMS, we believe in providing equal opportunity for everyone. And that's why we are offering Certificates Plugin for each of our users. Now you can offer certificates of completion even if you are using the FREE version of Dozent LMS. And we are the ONLY LMS solution provider in the market with such an offer.
Why are we offering certificate plugin for free?
As we have said earlier, we want to provide equal opportunity for both big institutions and lone individuals. We have seen a paradigm shift in the nature of eLearning in this recent year and we decided to extend our helping hand to the educationists and students alike. So we are offering Dozent LMS Certificate as our GIFT to the learning community. We believe that our contribution can have a positive impact on the overall environment of education.
With free certificate plugin, educators won't have to charge money for certified courses to offset their cost of plugin purchase.
Students will have the opportunity to get certified even in a free course that might be of huge importance to their employers.
Our motto is to ensure that nobody misses the chance of proving themselves just because of the shortage of money. This is a ONCE IN A LIFETIME OPPORTUNITY for every educationist out there.
Features of Dozent LMS Certificate
Easy builder – anyone with zero technical knowledge can create a certificate with our intuitive certificate builder.
Well-crafted certificate templates – comes with two default templates with modern and elegant design.
One-click demo import – import completely done-for-you demos with just a single click.
Upload your own certificate – you can upload your own custom-designed certificate template easily from the dashboard.
Course-specific template selection – you can set different templates for different courses.
Easy download for students – students can download their certificates with just a simple click after completion of their course.
How to add a certificate to a Dozent LMS course?
To add a certificate to one of your Dozent LMS courses, you need to install the Dozent LMS Certificate plugin first. To install the plugin, go to Dashboard > Plugins > Add new
In the search box on the top right, search for Dozent LMS Certificate.
When found, click Install and then click Activate. (Ours is showing Active in the image below because we already have it installed on our system)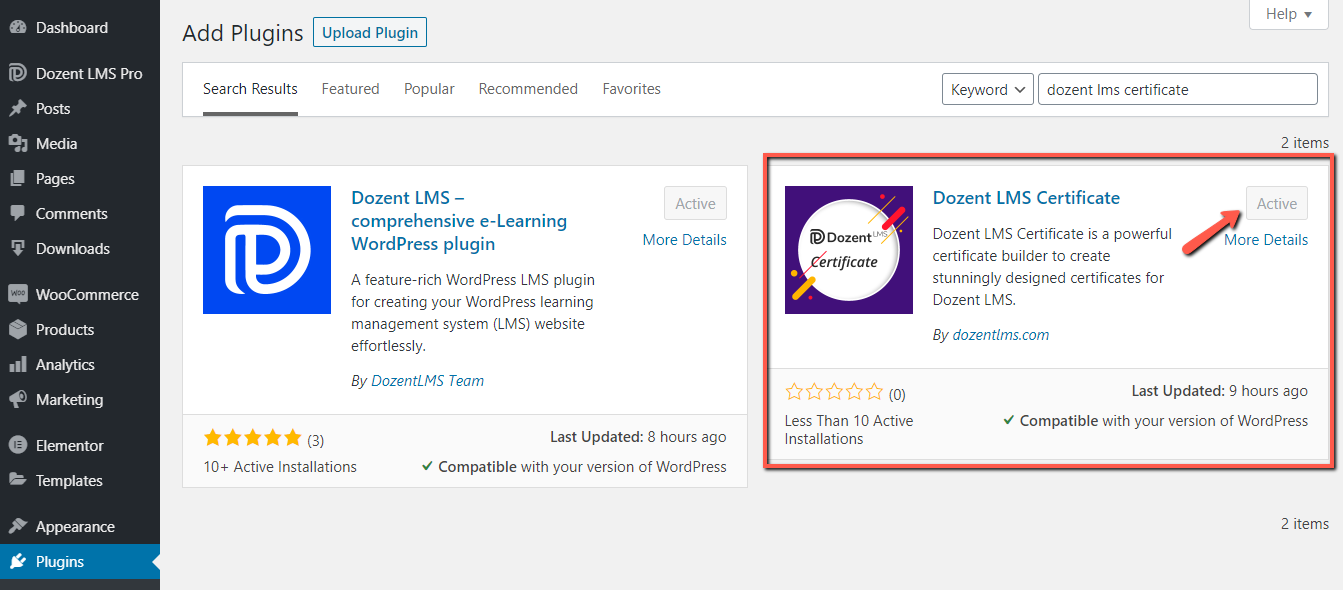 After activation, you will find the Certificate tab under Dozent LMS on your WP Admin Dashboard.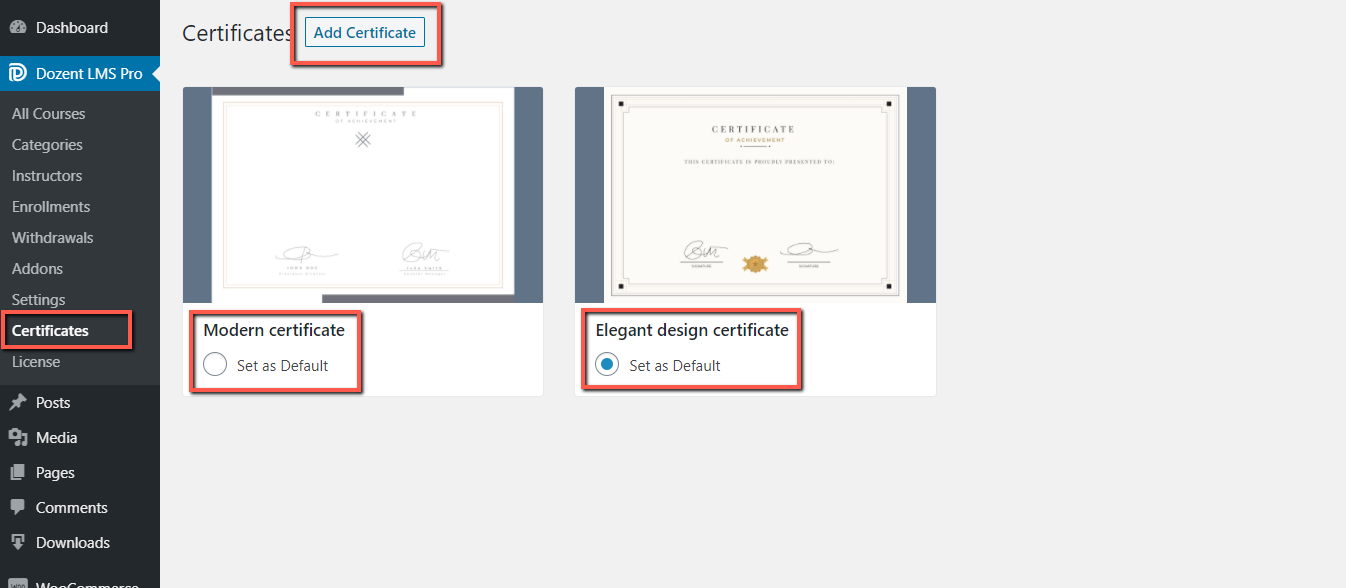 You will find two predefined templates to select from, on the Certificates page. Or you can choose to add your own template. To add your own custom-designed template as Default, click Add Certificate on the top.
On the Add New Certificate page, you will get all the options to design your certificate according to your preference.
In the title box, give a title to your certificate. Please be advised that this title is not the same as the heading of the certificate. All our certificates have a default heading of "Certificate Of Achievement". These titles are just names so that you can distinguish them on the backend.
In the Certificate Content box, write the lines you want your students to be appreciated. You may get an idea of the content from our example template where the brackets denote the variable content and outside the brackets denote static content.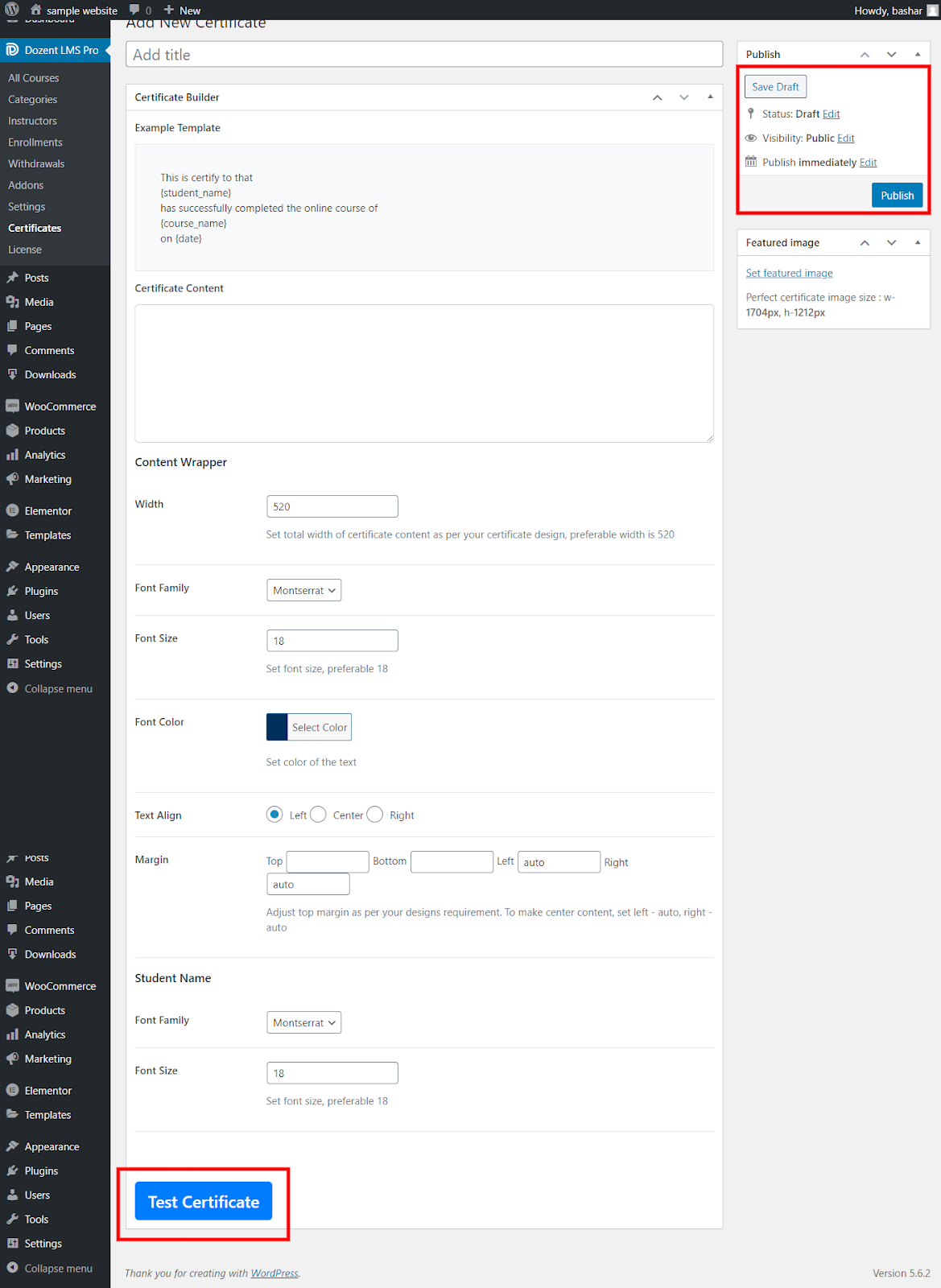 The Content Wrapper section contains the technical attributes of your certificates. It contains things like fonts, colors, text alignment, margin, and such. Tweak these options to tailor your certificate.
The Students Name section lets you select the font family and size that you want.
Now set the featured image of the certificate on the right sidebar.
Once everything is done, hit Test Certificate at the bottom of the page.
If everything is alright, hit Publish from the top right corner.
Now that your default certificate template is set, you can add/change the template from inside your course builder.
To do that, go to Dozent LMS > Courses > Edit
Scroll down to find Certificate Template under Course settings.
If you want to set a specific template for this particular course, you can set it from here. When you set another template for the course, students can download certificates with the exact template you're selecting.
If you make no changes to this section, the certificates will remain in the same template that you selected as default earlier.
Don't forget to hit Save Changes and the Update after making any changes here.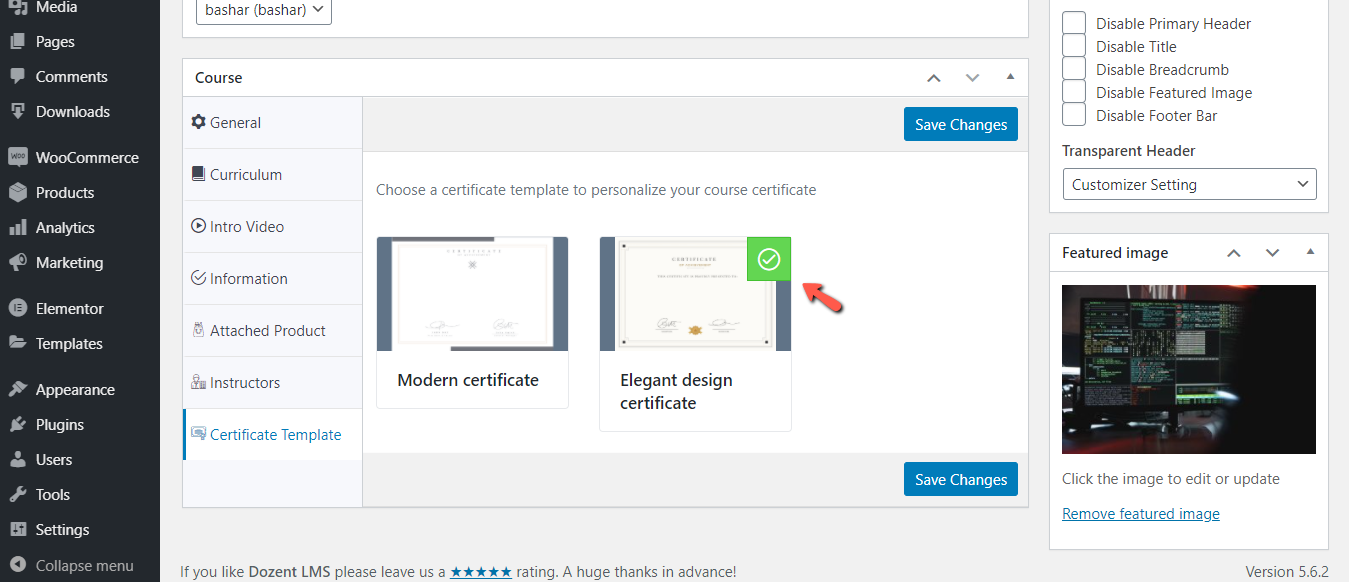 How to download your Certificate of Completion
Students can download their certificates after they have completed the course successfully.
When they have gone through every lesson and quiz on the curriculum, they can hit the Complete Course button. This button can be found on the lecture page of their course as shown in this image: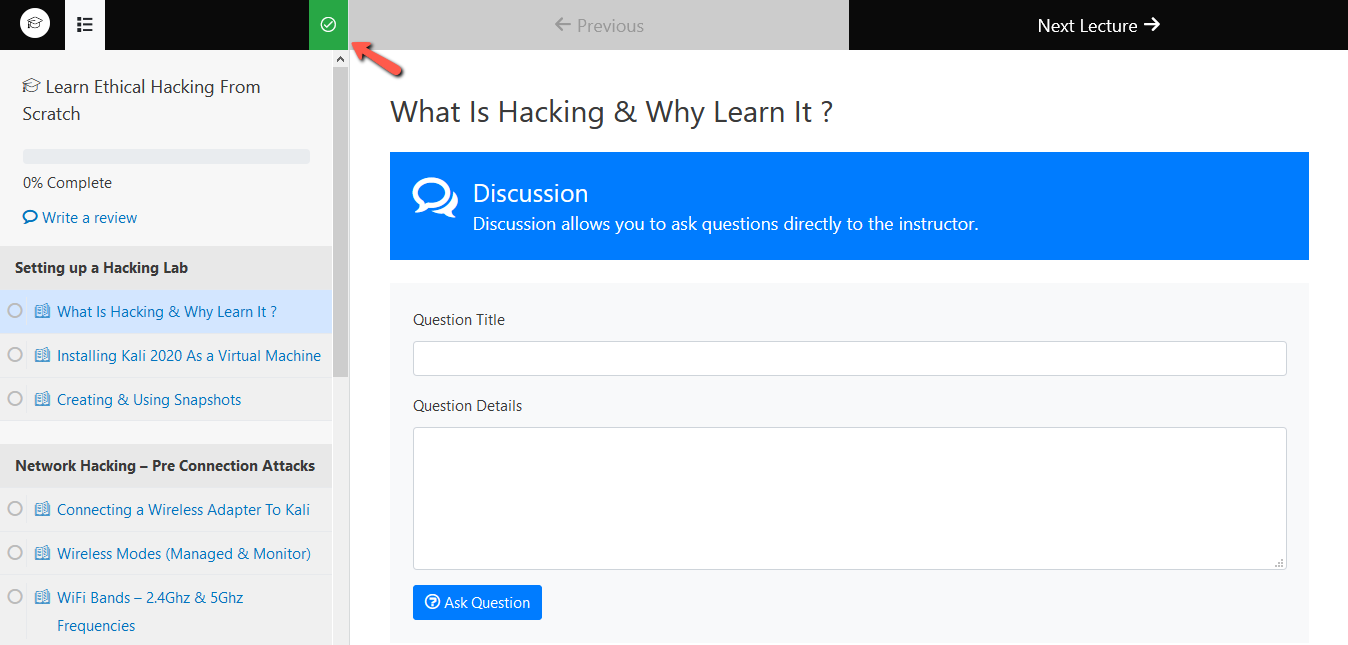 Checking this button indicates that the student is finished with this course.
Once they hit the button, the course statue will be changed to Completed and a Download Certificate option will popup just underneath the course status.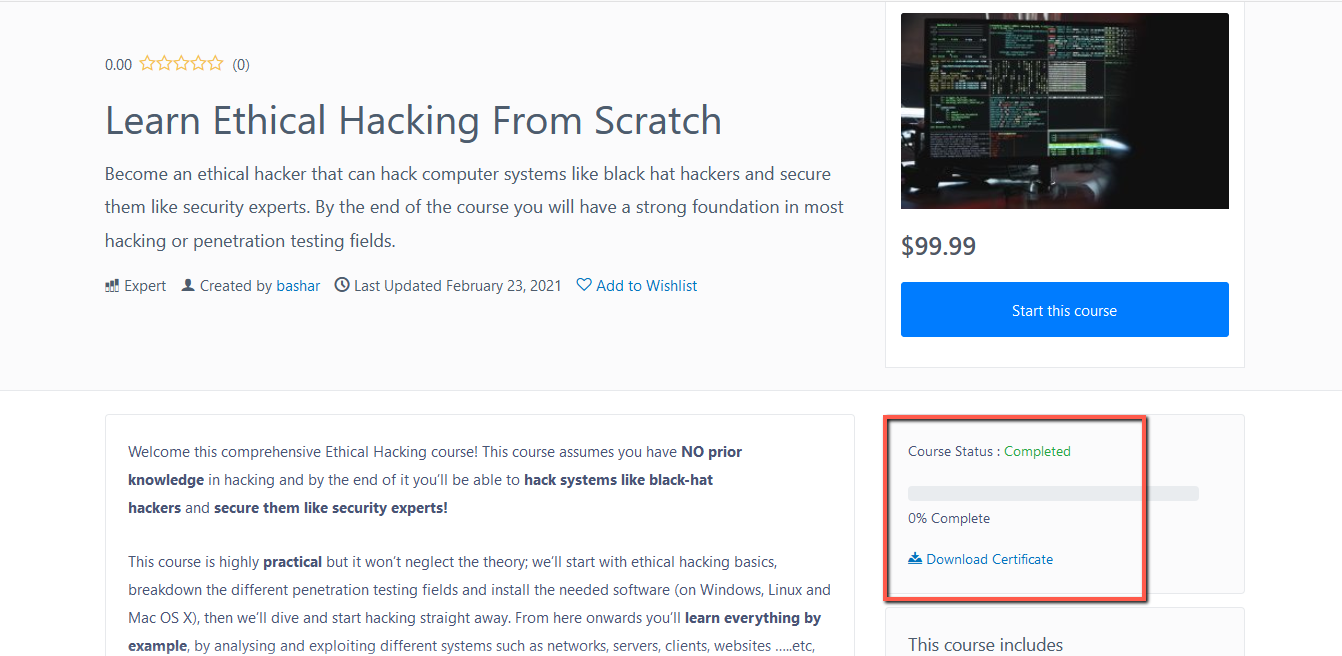 Hit the Download Certificate button and save it in your preferred location with your preferred name.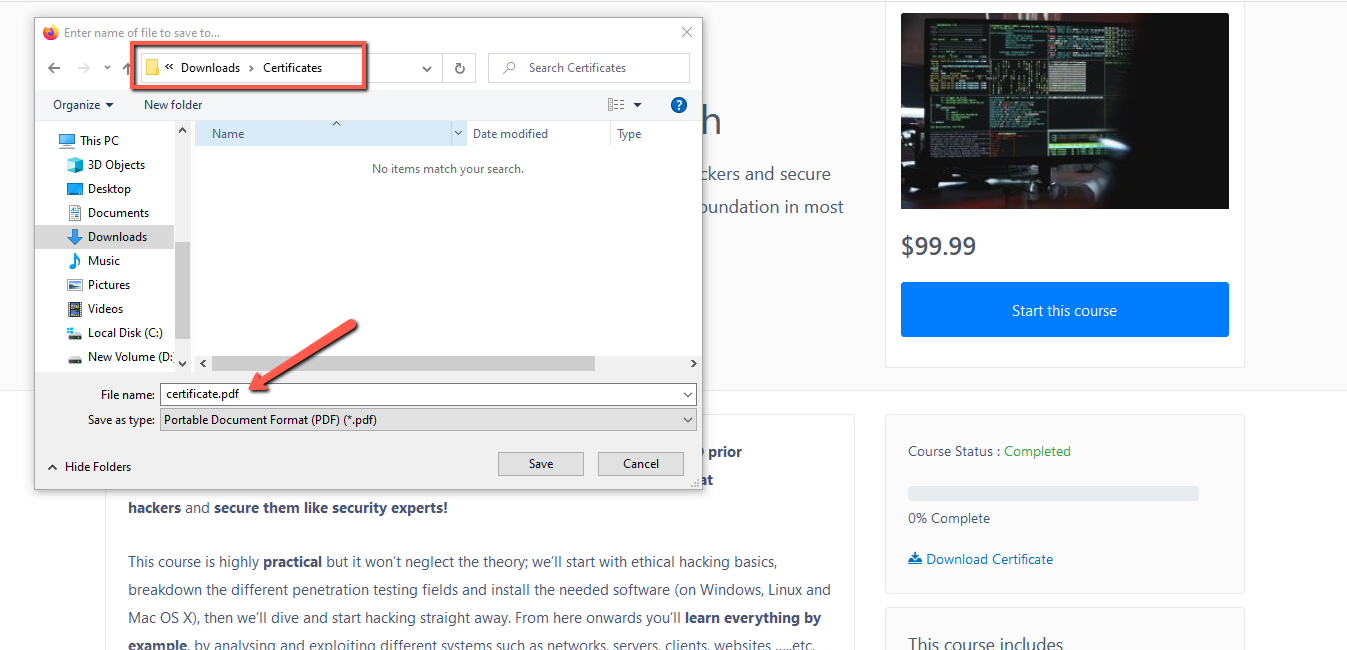 The certificate will be downloaded in PDF format. Here's how it will look like: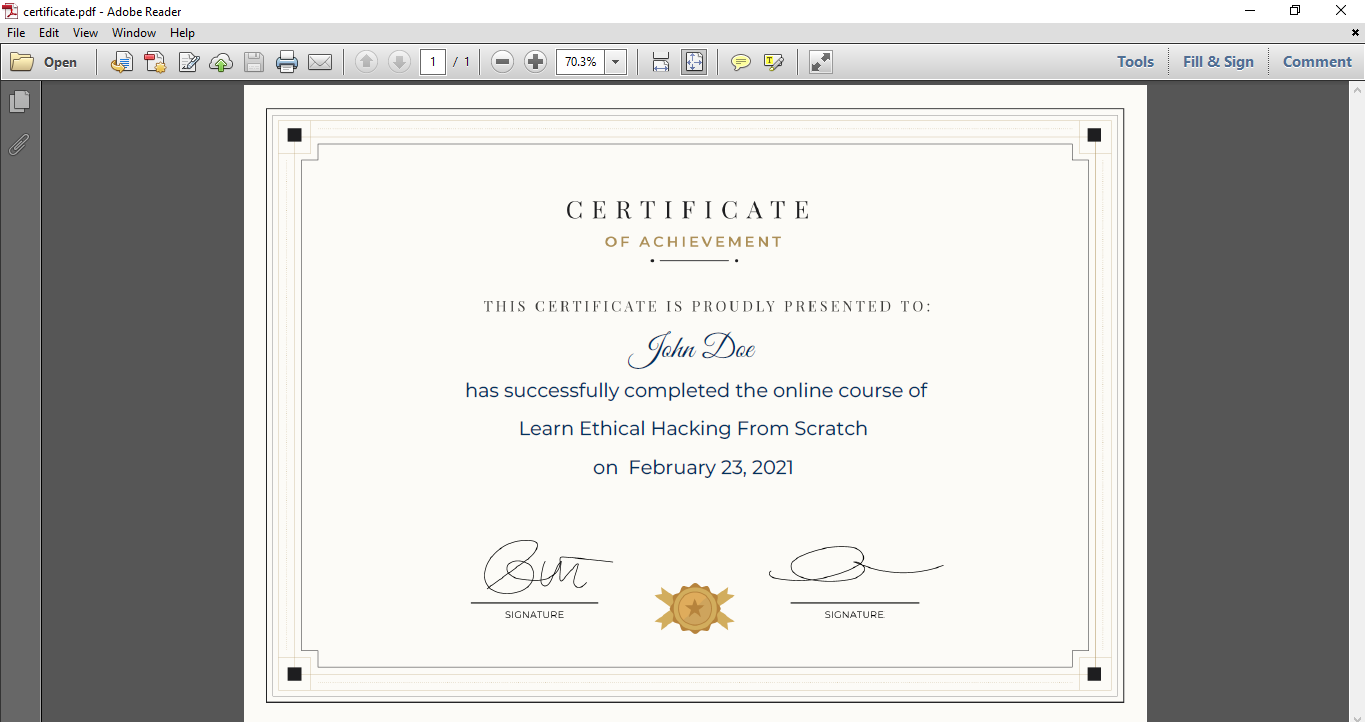 Congratulations! You now have your own Certificate of Achievement. You can share it with anyone in your office or institution. You can also add it to your resume, portfolio and/or LinkedIn profile. Here's how you can add a certificate to your LinkedIn profile.