Acknowledge your students' efforts by awarding them with stunningly designed certificates with this powerful WordPress certificate plugin.
The online education sector needs three basic components to run effectively –
Professional courses
A comprehensive platform where students can complete courses easily
Acknowledgement of course completion
At Dozent LMS, it is our mission to present the online education community with everything they need. In order to persuade that goal, we have developed our WordPress LMS plugin in such a way that anyone can create a comprehensive eLearning platform for students and offer basic and advanced level courses to them. While developing our core plugin, we felt the acknowledgement component to be the most important factor for any WordPress eLearning website. That's why we have developed a WordPress certificate plugin to enable our users to offer certificates of completion without any hassle.
Introducing Dozent LMS Certificate
Team Dozent LMS is proudly presenting Dozent LMS Certificate. It's a WordPress certificate plugin through which you can create and distribute certificates for each of your courses. Installing and using this certificate builder is so easy that anyone can create custom-designed certificates even if they don't have any technical knowledge whatsoever.
Importance of certificates for your online courses websites
Certificates have a supreme importance when you are operating an eLearning website. And it's important for both students and course creators. Here are some of the factors that will tell you why and how certificates are so important.
It's a proof of completion
Generally, students take courses to get a new job, or promotion, or maybe to start a new career. And a certificate gives them the proof that they can share where needed.
Commitments rewarded
Human nature says that they want to be recognized for their efforts. With an online course certificate, you can let them know that you have noticed their efforts. It grows a sense of achievement and trust in them.
More course sales
When you offer a certificate for your courses, it instigates your prospective students to take up the course. This, in turn, increases your sales and revenue.
Incentive to engagement
Most of the time, people buy courses but become reluctant in completing them. A certificate may work as an incentive to engage them to complete the course.
Persuade students to go to the next phase
When you recognize your students with a certificate, it breeds new confidence in them and they become interested to take on further steps on your platform e.g. take more courses.
Features of Dozent LMS WordPress certificate plugin
The Dozent LMS WordPress Certificate plugin is packed with a couple of awesome features that make it one of the best certificate plugins in the market right now. Let's have a look at the features here:
Intuitive builder – The plugin comes with a builder where everything is intuitive. Anyone can create a certificate easily even if they don't have any technical knowledge.
Awesome templates – The builder integrates two done-for-you templates of modern and elegant design which you can import with just one click.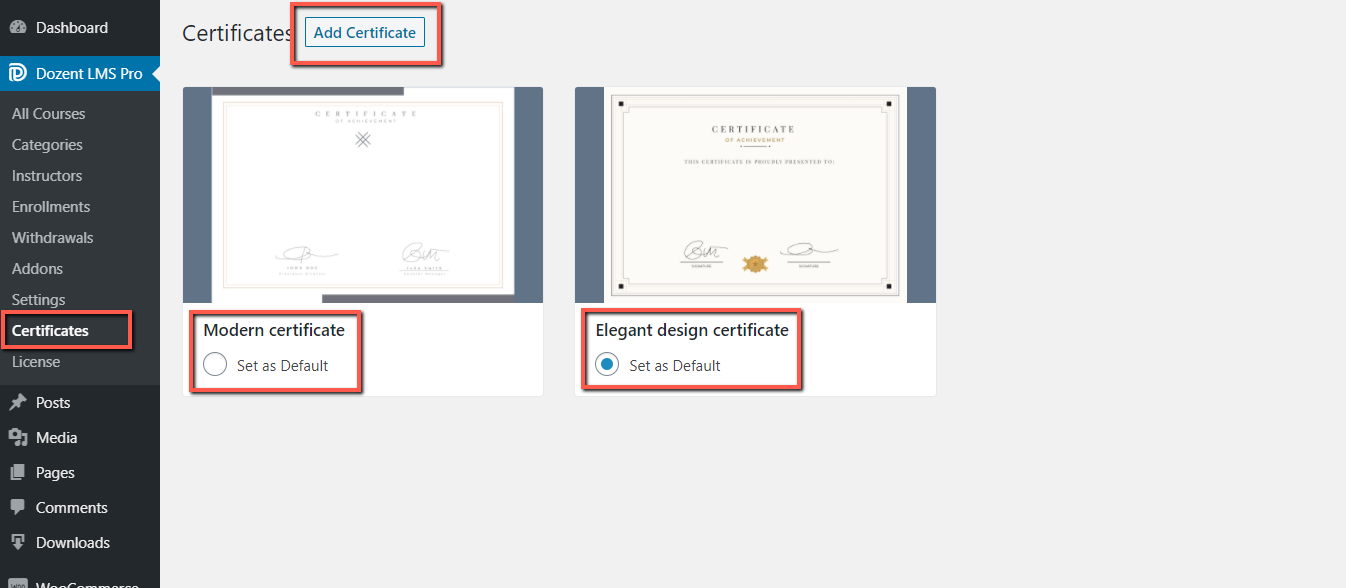 Upload custom-designed template – If you want to offer certificates with your own custom-designed templates, you can easily do that with the builder. Just upload your design to the backend and you are good to go.
Course-specific template selection – You can select a certain template for a specific course. Or you may offer the default template. The choice is yours.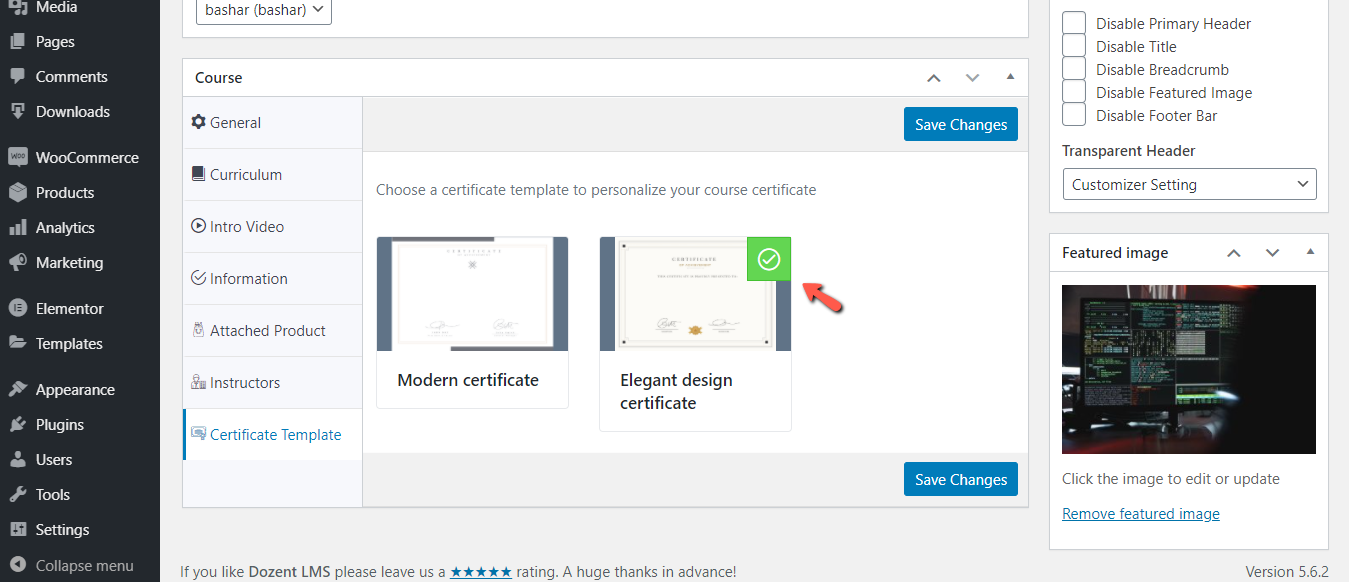 Easy downloads – Dozent LMS Certificate plugin is seamlessly integrated with the Dozent LMS plugin so that your students can download their certificates in PDF versions without any hassle.
Powerful plugin at $0 cost – The plugin is so powerful that you can literally create wonders with it. And the most important thing is, it's ABSOLUTELY FREE! You don't need to spend a dime for using the plugin.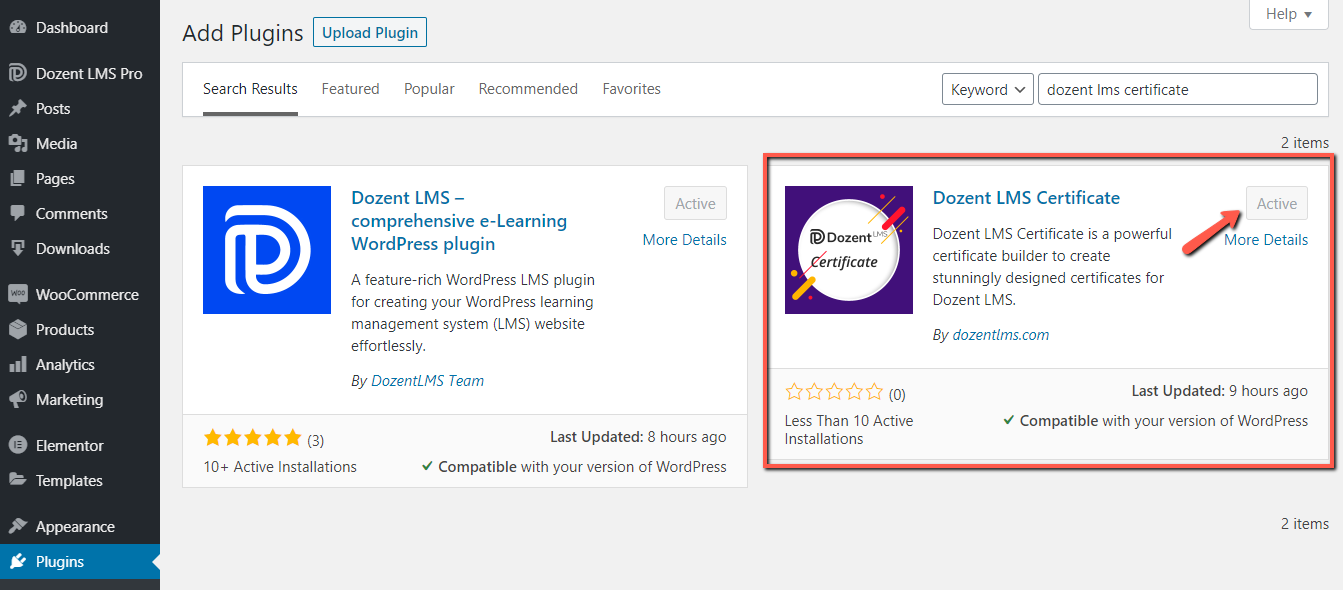 We understand very well that you are short of cash while you are starting your first eLearning website. And it becomes hard for you to avail such an opportunity with a price. Moreover, the WordPress certificate plugin available in the market charges a hefty amount for purchasing it. So it becomes almost impossible for you to purchase a plugin to offer certificates to your students. That's why we have developed this plugin to be offered without a fee so nothing can hinder your potential growth as an online educationist.
You can download, install, and use the certificate plugin with the free version of Dozent LMS with all its functionalities.
How to install Dozent LMS WordPress certificate plugin
To install Dozent LMS Certificate plugin, go to WP Dashboard > Plugins > Add new
Search for Dozent LMS Certificate from the search bar on the top right corner of the page.
Once found, hit install. After the installation is complete, hit Activate.
Now go to the Certificates tab under Dozent LMS and import the templates. You can also add a new template from the Add New section.
After the templates are imported or uploaded, select one as your default template.
Now you are all set to use the certificates feature.
Read here to know how you can use the plugin more effectively.
Wrapping Up
With Dozent LMS Certificate you get a free plugin, two stunningly designed templates, and an unlimited number of certificates to be created and distributed. And all these are absolutely free. So why waste your time? Download it today and start offering certificates for all your professional courses.