The name gives it away, doesn't it? Dozent LMS is a full-fledged WordPress eLearning solution. If you're in search of a complete WordPress LMS plugin, you're at the right place. This blog is a release post for the plugin. In this post, you'll learn why there's another WordPress eLearning plugin on the block and how it benefits you.
What is Dozent LMS?
As stated earlier, Dozent LMS is a complete WordPress LMS plugin that enables you to create, manage, and sell courses online. It's a fully-customizable solution that gives you the freedom to design your platform the way you want it. With Dozent LMS, you don't need to spend a dime to run a full-scale eLearning platform.
Why create yet another WordPress LMS plugin?
The truth is, there are already a few WordPress LMS solutions on the market. However, the growing demand for eLearning solutions grew exponentially in this past year which hit the market by surprise. So when you search for a complete online course creation solution, it's extremely difficult to find one that fits your needs. This is why we created Dozent LMS for you. It's super easy to create, manage, and sell online courses with this plugin.
What do you get in Dozent LMS?
Dozent LMS is the complete package you'll ever need to run an online education or eLearning business. It comes with course creation, quiz builder, and assignment management. Not just that, you'll also be able to assign courses to multiple instructors, sell courses, and split the earnings automatically. Let's see a detailed breakdown of the features below.
Powerful Dashboard
The frontend dashboard is beautifully crafted to smartly organize every important element. You'll have everything from course creation to money withdrawal categorized in a very user-friendly way. We've designed the dashboard in a way that instructors never need to go to the complex backend to get things done.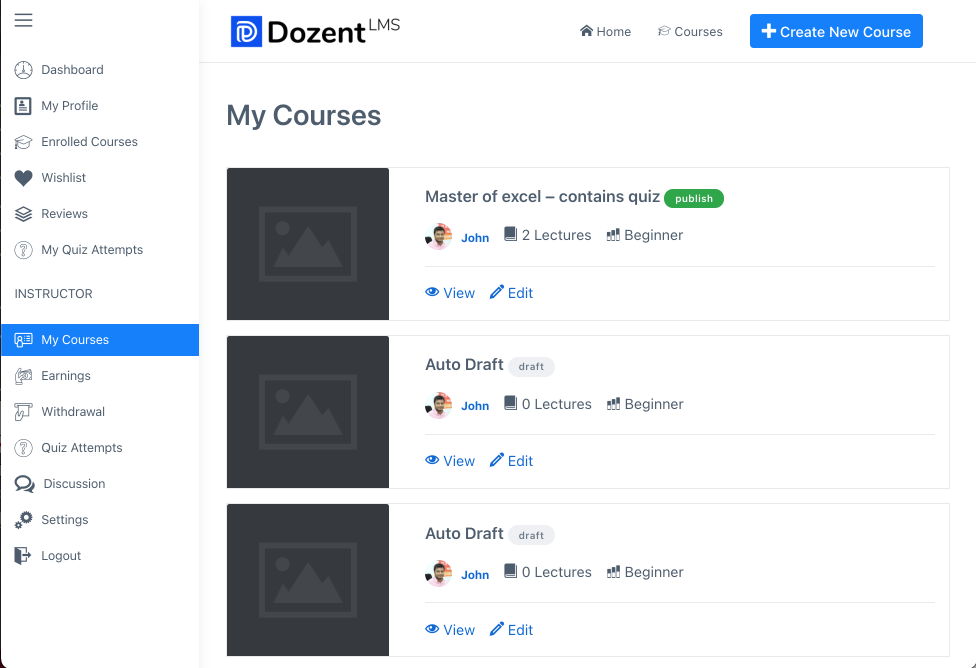 Superior Course Builder
We're introducing a modern new course builder that is unlike any other WordPress LMS solutions in the market. It's designed in a way that will revolutionize course creation in the WordPress platform. Creating courses with the frontend course builder is as easy as posting a social media status!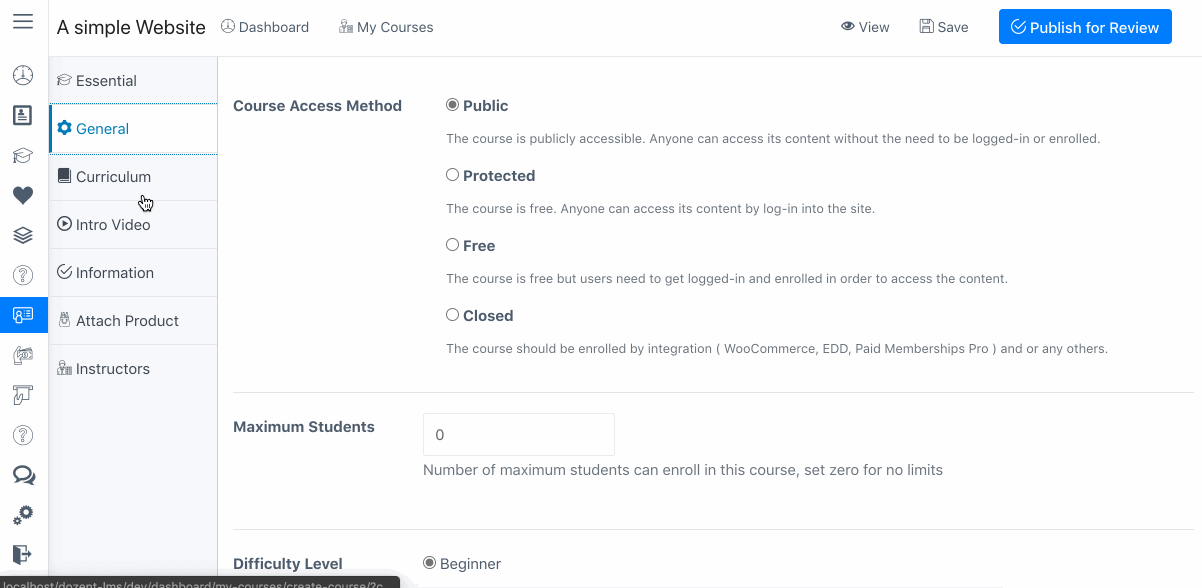 Modern Quiz Builder
The success of any online course depends tremendously on quizzes. Therefore, Dozent LMS comes with a modern quiz builder that lets you create engaging quizzes so that you can verify how well your students are performing. Right now, Dozent LMS offers true/false, single choice, multiple choice, single word, and short essay type quizzes with more on the way.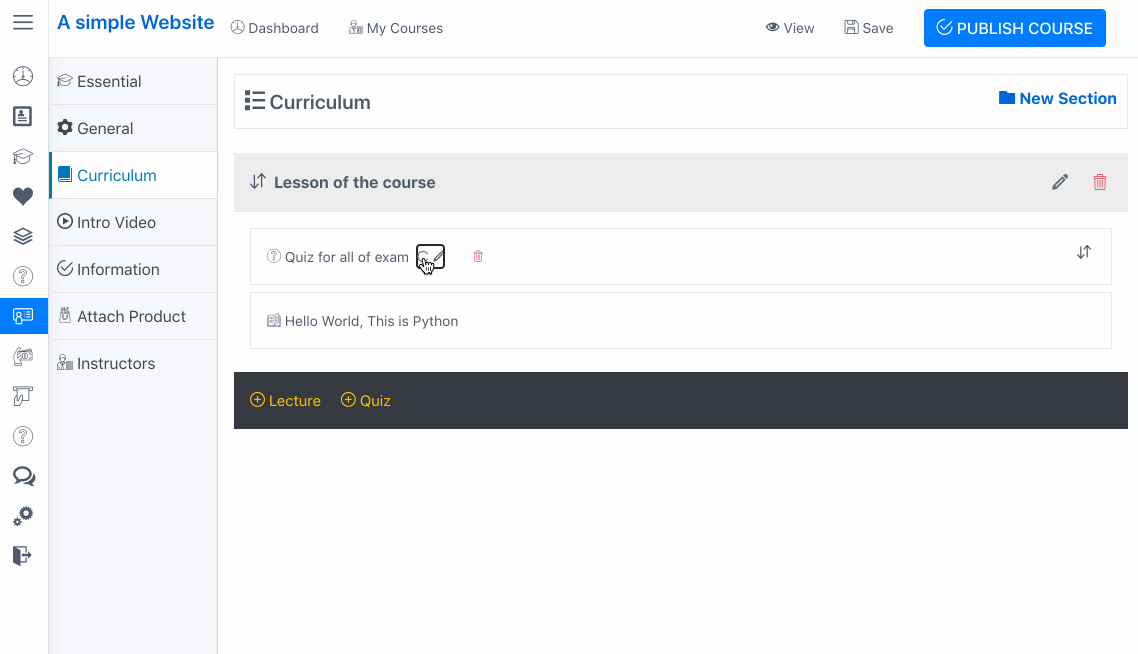 Course Preview For Everyone
One of the only ways to popularise any online course is to provide a sneak peek. And Dozent LMS comes well prepared for that. You can offer previews for a few selected lessons so that anyone on the internet can get an early overview of what your course is all about. This way they'll feel confident taking your course.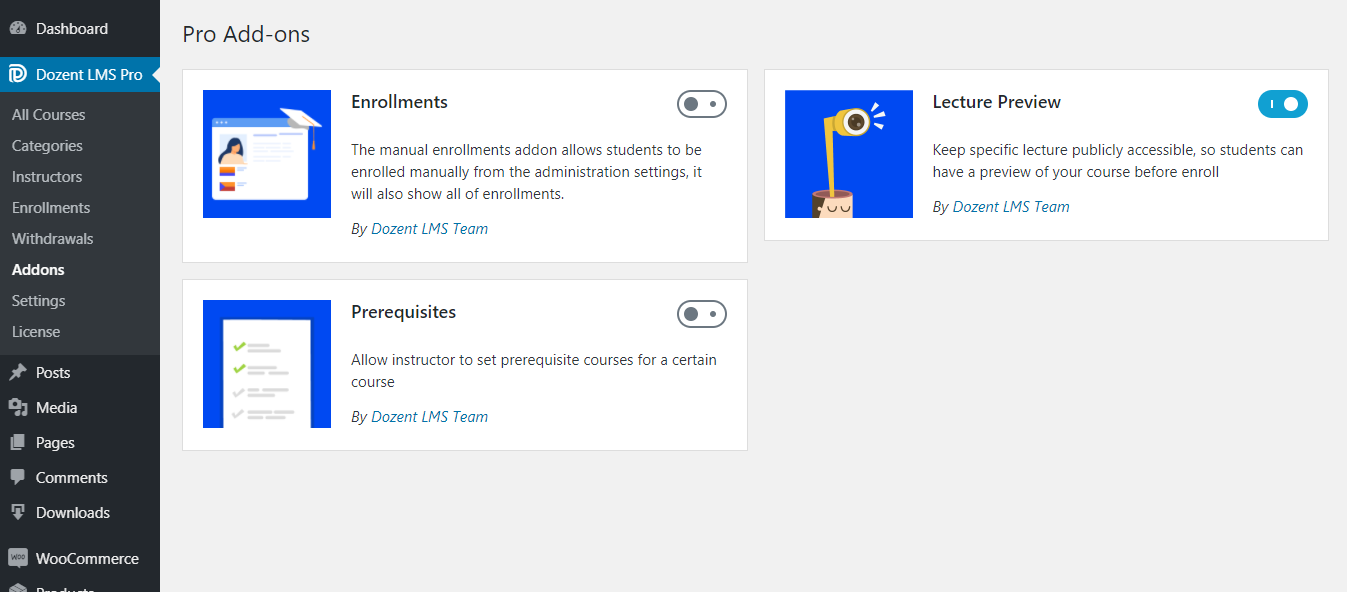 Distraction-Free Learning
Dozent LMS comes with a built-in focus mode that makes sure everybody has a distraction-free experience. We've created this to boost productivity for both students and educators. This built-in focus mode helps students study without interruption ensuring a better learning experience.
Ratings and Reviews
You'll have a better chance to improve your social proof with Dozent LMS's feedback sharing feature. Students can leave reviews about their instructors and the courses they take. They can also rate their experience after completing any course. When more students leave feedback about a course, potential students get the courage to take the leap.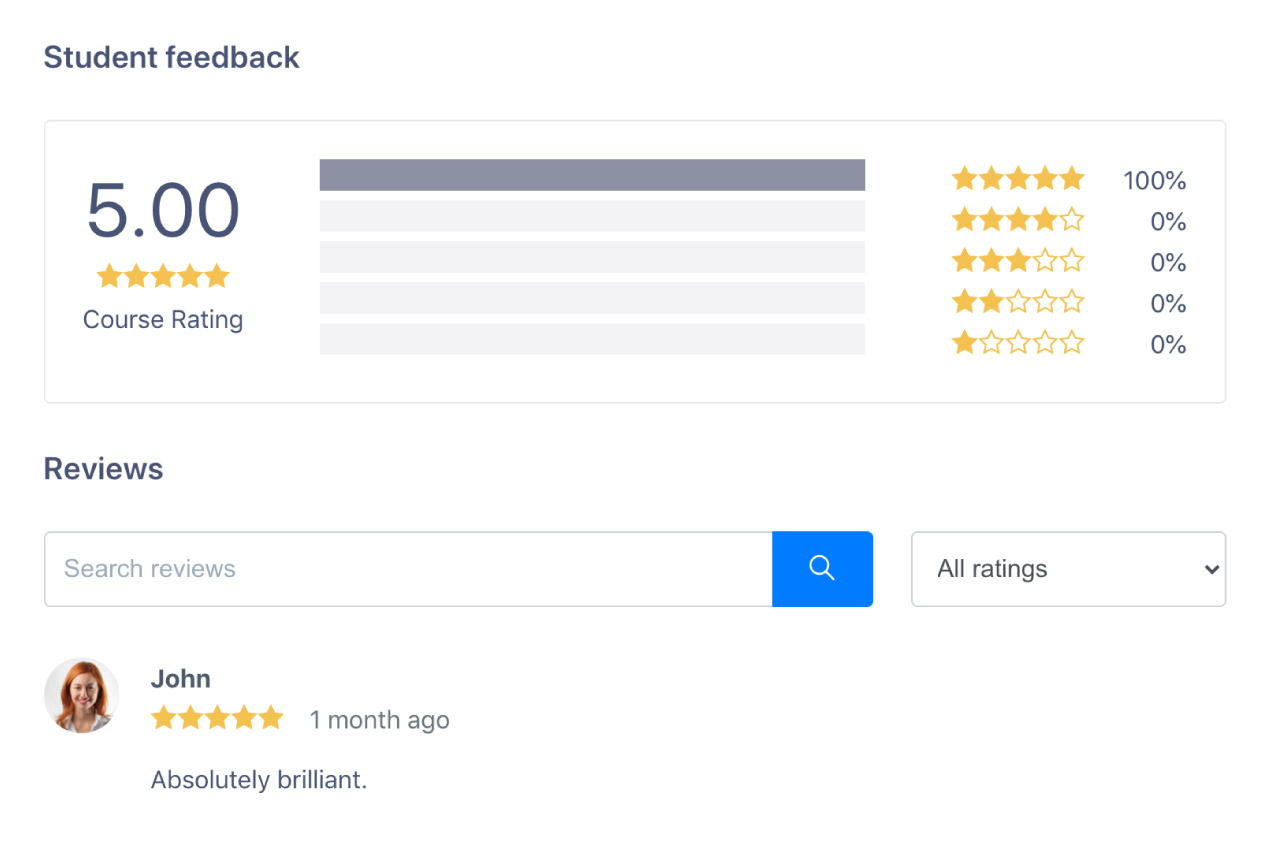 Complete Money Management
With Doznet LMS you have the familiar eCommerce solutions WooCommerce and Easy Digital Download already in place. Admins can automatically split commissions fairly with the instructors. The simplified money management offers E-Check, Bank Transfer, and PayPal ensuring a hassle-free money withdrawal experience.
WooCommerce & Easy Digital Download Integration
With Dozent LMS, you have the complete freedom of using multiple eCommerce solutions simultaneously. This means you don't need to go back and forth to adjust the eCommerce system ever. You have the ability to sell one course with WooCommerce while you can sell others using Easy Digital Download, giving you full control over the monetization system.
Multiple Instructors
We understand how difficult it can be to run your own eLearning platform and take courses simultaneously. Plus, in order to grow your business, you need to ask subject matter experts to collaborate on your course. Therefore, Dozent LMS comes with a multi-instructor feature that enables more than one instructor to publish a course.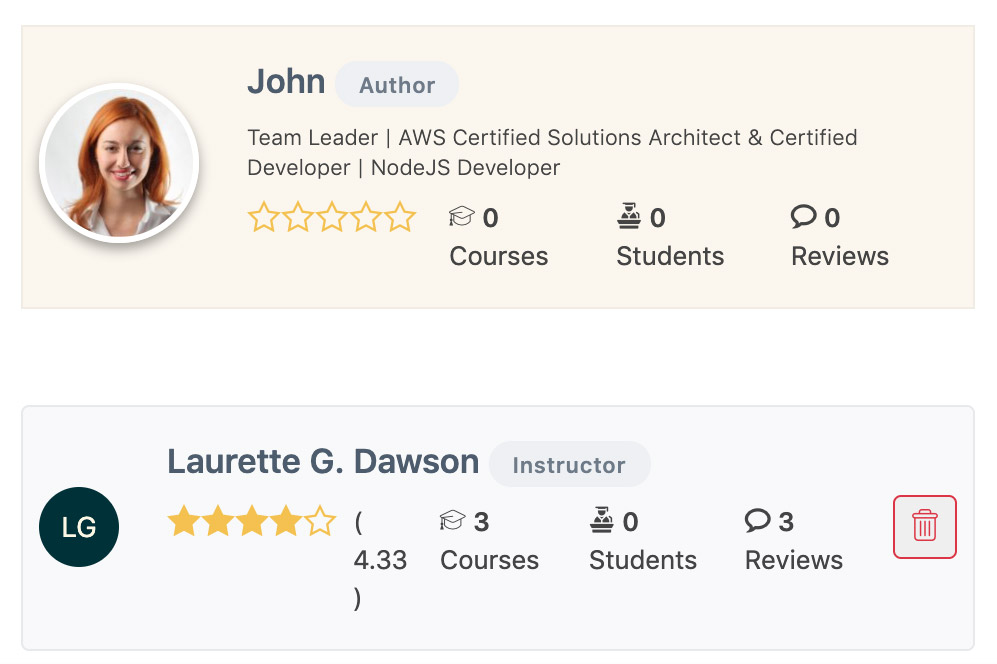 Course Wishlist
As students browse your eLearning platform, there will be many courses that appeal to them. However, they might not have the financial ability or the time to take the course right away. Hence, we've provided a wishlist feature to this WordPress LMS plugin so that students can take their favorite courses at a later period.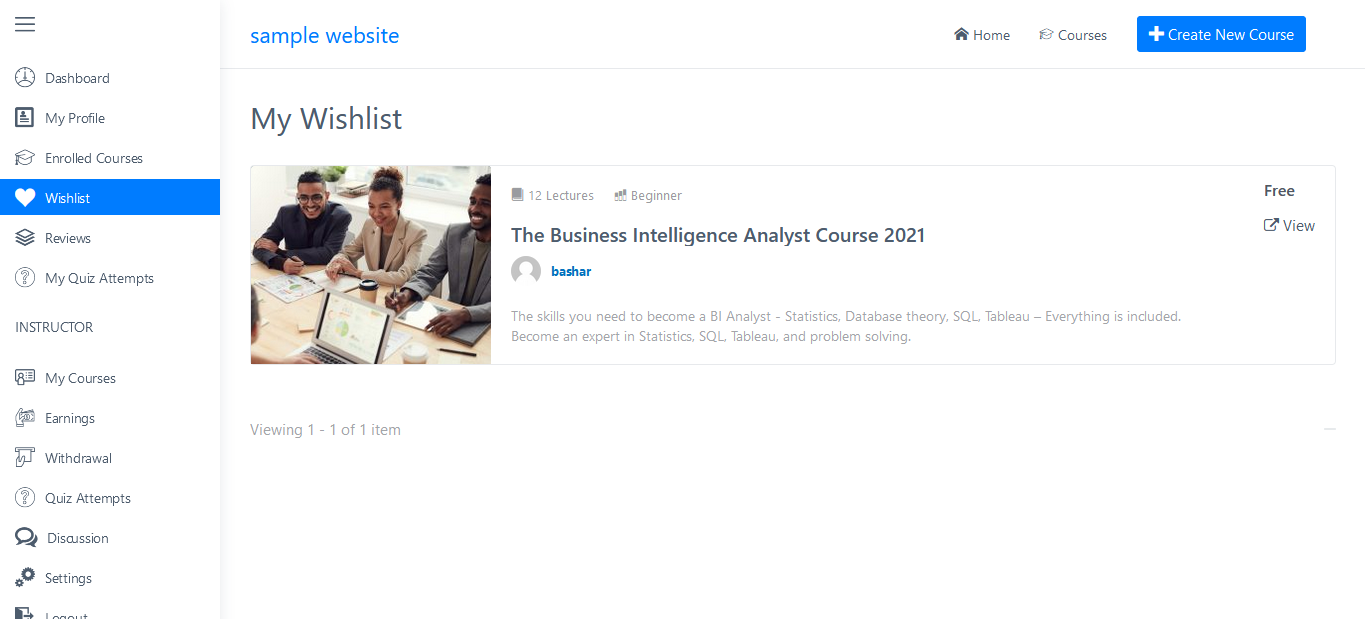 Private Discussion
When running an eLearning platform, you'll find students wanting to interact with instructors. However, sometimes they don't feel comfortable sharing their concerns in a public discussion or forum. Therefore, Dozent LMS comes with a private discussion feature that lets students ask questions directly to the instructors. And the instructor can share a personalized answer to the student.
Certificates
We know of the supreme importance of certificates for your courses. We also know that when you're just starting, it'll be tough for you to avail a certificate plugin with a price. That's why we are offering the Dozent LMS Certificate plugin for free. You can use it with the free version of Dozent LMS as well. This plugin enables you to offer customized certificates to all of your students. Don't have your own design? Don't worry, we got you covered. The plugin contains two predefined templates that you can import with just one click and use the way you want. You can also offer different-designed certificates for different courses. We are the only one in the market offering such a versatile yet powerful certificate builder absolutely free.
Many more to come
These are only a handful of features coming with the release. You'll have a plethora of more exciting features as we progress. We're committed to making Dozent LMS the one-stop solution for online learning management. Hence, we're doing everything in our power to make that happen. See the ROADMAP for a glimpse of features you'll be having in the near future.
How friendly is it for developers?
Ina word – Very! Dozent LMS is one of the few on the market that cares deeply about the developer community. It's fully customizable. We have an enriched developer doc briefly explaining all classes, functions, hooks, and methods used in the plugin. You can use Dozent LMS with any WordPress theme. You can also develop your own LMS theme as all core eLearning functionalities are provided by Dozent LMS.
How much does it cost?
Nothing! That's the best part. When you are just starting your eLearning platform, we know you're a little short on cash. We cannot profit at your expense. That's inhuman! So everything you need from creating your very own eLearning platform to start selling courses is included in the FREE version of our WordPress LMS plugin. You only buy the PRO version whenever you feel comfortable. Like when you want to expand your business. It's totally up to you!
Wrapping Up
Dozent LMS is not only just a product. It's a dream come true. It's like a child for us. Our love for Dozent LMS is like the love of parents for their firstborn kid. We're constantly working on making it better. We'll forever listen to your feedback as there's no limit to perfection. Let us conclude by making an announcement — we'll do whatever it takes to make it the epitome of eLearning solutions on the face of earth and that's our promise to you!